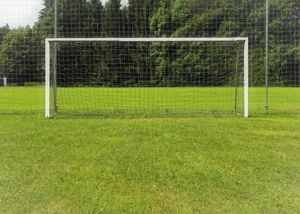 Oct. 6, 2023
How Big is a Football Goal: From Youths to Professionals
The goal is one of the most important aspects of a football pitch. Without it, no one would score any points! But how big is a football goal? And what size do you need for your club?
The size of the goalposts is crucial to help players learn how to play the beautiful game properly, and the appropriate size changes depending on the players' age group. Whether you're setting up a pitch in your back garden, a training ground for your local youth players or you want to create a pitch for competitive matches, choosing the right size football goals is vital.
We've put together this helpful guide to help you choose the right size goal posts for any age group, from mini soccer goals to professional leagues.
But before we jump in, here's a quick rundown of the different football goal sizes:
| | |
| --- | --- |
| Type of Football | Football Goal Size (Senior) |
| 5-a-side | 12ft x 4ft |
| 7-a-side | 12ft x 6ft |
| 9-a-side | 16ft x 7ft |
| 11-a-side | 24ft x 8ft |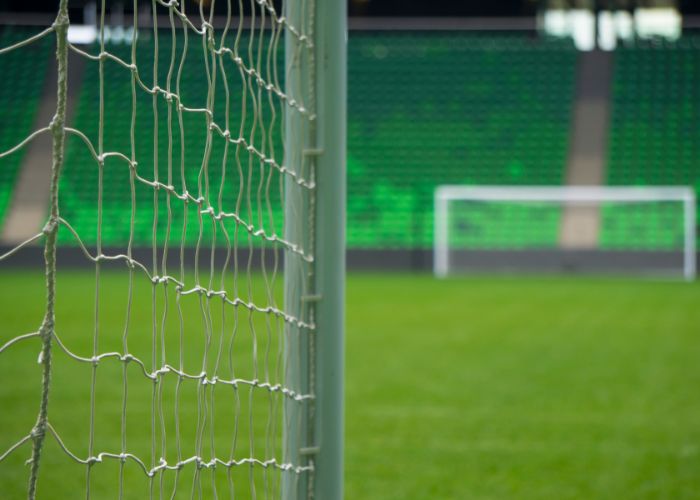 How Big is a Football Goal? It Depends!
There's no one-size-fits-all when it comes to football goals. The size of the goalposts depends on the size of the pitch and the age groups of the players. There's no point having an under-8's player defending a full-size football goal.
Below is a breakdown of goal post sizes by pitch size and age groups.
5-a-Side Football Goal Post Size
5-a-side football goals come in three different sizes depending on the age of the players and the game being played.
5-a-side futsal, 3m x 2m goal posts are used.

under 7's and 8's, 12ft x 6ft goal posts are used

senior 5-a-side football, 12ft x 4ft or 16ft x 4ft goal posts are used.
Check Out Our 5-a-Side Football Nets
7-a-Side Football Goal Post Size
7-a-side football goalposts only come in one size. Mini soccer matches played by under 9's and under 10's use a 12ft x 6ft goal. This goal is also commonly used for under 7's and under 8's 5-a-side matches.
9v9 Football Goal post size
In youth 9-a-side matches, the FA recommended size for a football goal is 16ft x 7ft. This is an appropriate goal for under 11's and under 12's youth age groups when the match is being played on grass, artificial surfaces, and 3G pitches.
Take A Look At Our 9-a-Side Football Nets
11-a-Side Football Goal Post Size
There are two goalpost sizes for full-team games. Junior football goals should be 21ft x 7ft; this is for under 13's and under 14's.
For senior football players, the goalposts should be 24ft x 8ft. This applies to 11-a-side games for under 15's and over.
Shop 11-a-Side Football Goal Nets
FA Recommended Goal Size By Age Group and Game
The FA has come up with recommendations for the size of goals depending on the age of players and the game that's being played. Below are the sizes for 9-a-side, full 11-a-side, and 5-a-side games.
| | | |
| --- | --- | --- |
| Age | Game | Goal Size |
| Under 7/8 | 5-a-side | 12ft x 6ft |
| Under 9/10 | 7-a-side | 12ft x 6ft |
| Under 11/12 | 9-a-side | 16ft x 7ft |
| Under 13/14 | 11-a-side | 21ft x 7ft |
| Under 15/16 | 11-a-side | 24ft x 8ft |
| 16+ & Senior | 11-a-side | 24ft x 8ft |
The Importance of Appropriate Goal Sizes for Different Age Groups
Now you know the appropriate size football goal posts to buy for each age group, it's important to understand why different age groups require different goal sizes, and it goes far beyond the player's height.
The Football Association (FA) have determined the most appropriate goal sizes for different age groups based on the number of players in a match and the height and age of the players.
We've broken things down into different age groups to explain why using the appropriate goalposts is crucial to help your team develop the right skills to play great football. We're using the Football Association's recommendations.
Under 8's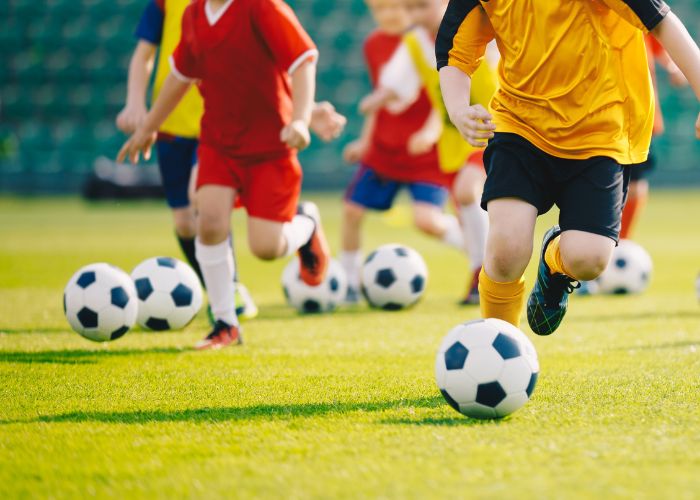 Under 7's and under 8's should be focusing on learning and developing their technical ability. This means controlling the ball, passing it correctly, and generally building up skills to carry it through their football matches.
The F.A. regulations state children in these age groups should be playing 5-a-side football only, with a size 3 ball, on a 40-yard x 30-yard pitch. The goal posts at this age should be 12ft x 6ft to meet regulations.
Under 10's
Under 9's and Under 10's should have graduated to playing 7-a-side football. At this age, the F.A. recommended size is still 12ft x 6ft mini soccer posts. This helps them finesse their technical ability, especially for the goalkeeper.
The main thing that changes during these age groups is the size of the football. Under 9's should continue with the size 3 ball, while under 10's should graduate to a size 4 ball to keep up with their increasing size.
Under 12's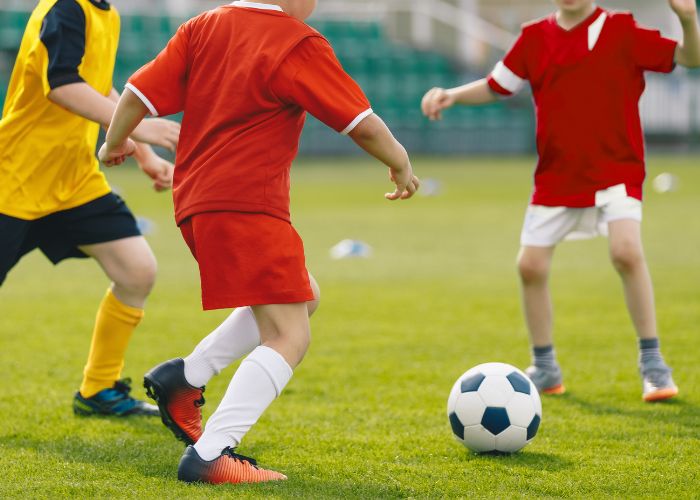 For under 11's, things step up a notch. At this age, the pitch gets bigger to allow for taller children. At this age, matches should be played on an 80yd x 50yd pitch. This is going to help young players learn how to run into space and complete longer passes with accuracy.
At this stage in their football career, the goalposts should measure 16ft x 7ft. This is a smaller goal than the ones used in senior football, but it continues to give the keeper a challenge in line with their height. These goal post dimensions apply to the under-12's age group, too.
Under 14's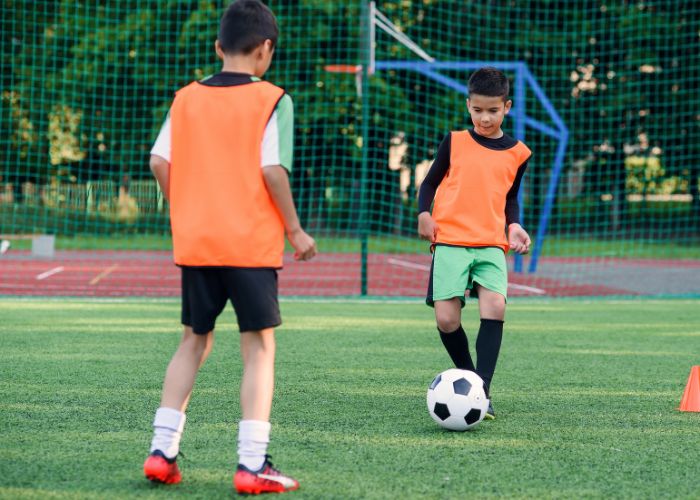 At this age, it's common for kids to start playing full 11-a-side matches. This is vital to help them learn how to navigate runs through a full-size opposing team. It's also when the off-side rule and carding begin to be introduced to the games.
As the technical ability of under 14's improves and the full FA rules are implemented, the pitch size changes again. A pitch measuring 90yd x 55yd should be used for under 13's and under 14's. The goal posts should be increased to 21ft x 7ft.
Under 16's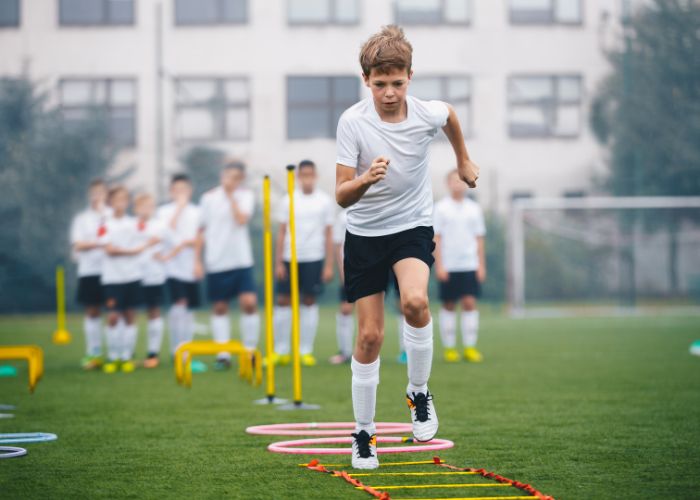 Under 15's and under 16's age groups begin to play with the same ball and goal post dimensions as professional leagues. The goalposts should be 24ft x 8ft to meet FA recommendations.
The pitch is still smaller than a full-sized, professional pitch. It should measure 100yd x 60yd while they build up their stamina.
Under 17's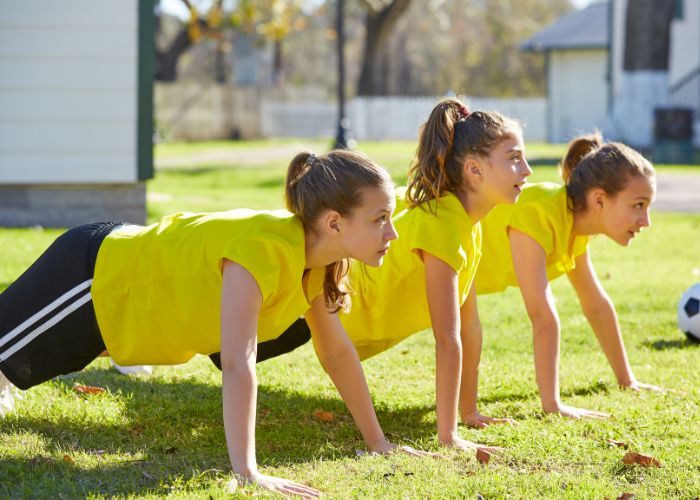 This age group marks the final transition to professional league dimensions. By this point, players are fully grown and will have their technical abilities down.
Under 17's should be playing on pitch dimensions of 110yd x 70yd. The FA recommendations do allow some flexibility in this, and pitch dimensions down to 90yd x 50yd are still compliant with the regulations.
Regardless of the pitch size, this age group should be playing with full-sized goalposts measuring 24ft x 8ft.
Find the Right Size Football Goal at Huck Nets
Size is an incredibly important consideration when it comes to football goals for different age groups. No matter whether you're setting up a casual, local training session for kids or you want to kick off a team for your town, getting the right equipment is crucial.
At Huck Nets, we stock a range of high-quality football nets to fit any size football goalpost. Our specialist nets are made from UV and rot-proof mesh to ensure you get the best value for money. We also offer 3 styles – continental, box-style, and straight-back – so you can pick the most appropriate for your club.
Whether you're setting up a professional pitch or a school sports field, our football goal nets are the ideal fit. Order yours today!
FAQs
Is Size More Important Than Quality?

Both size and quality are equally important when it comes to football goals. You need the right size goalposts to help coach players towards accuracy and correct technique but playing with a ripped, low-quality net isn't going to inspire them. At Huck Nets, we have an expansive range of high-quality, affordable football netting to help your team.
How Big is a Football Goal in the Premier League?

The Premier League uses a full-sized, senior goal for all its matches. The crossbar measures 8ft off the ground and is 24ft wide. This is a standard senior goalpost measurement. All clubs in the Premier League must use this standard goal size, regardless of the specific pitch measurements they use.
What Size is a 7-a-Side Goal?

A 7-a-side goal post measures 12ft wide by 6ft tall. This is standard no matter what age the players are, although it also applies to the Under 9s and Under 10s matches because this age group generally plays 7v7 fixtures.
What is the Height of FIFA Goal Posts?

FIFA goalposts have to adhere to the FA guidelines when it comes to senior fixtures. The lowest part of the crossbar must be 8ft above the goal line. The posts should be 24ft apart on the inner edge of the posts. The goal must be placed in the centre of the goal line.